New York City Mayor Waives Asbestos Fees After Hurricane Ida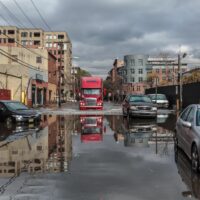 Hurricane Ida was a massive, destructive storm that tore through the east coast. Many buildings in New York were damaged or destroyed. Property owners were tasked with finding ways to repair their damaged buildings while accounting for the increased risk of exposure to asbestos that had been present in walls and roofing materials. Mayor de Blasio offered a measure of relief for property owners by way of an executive order. The executive order and the increased visibility into asbestos issues serve as reminders of the looming threat of asbestos lawsuits that property owners in New York face. Continue reading to learn about the executive order and the state of asbestos litigation, and call a seasoned New York toxic torts defense attorney if you need help defending against toxic tort claims.
Mayor De Blasio Waives Asbestos Fees
On September 7, 2021, New York City Mayor Bill De Blasio signed Executive Order 235. EO 235 granted the Department of Buildings (DOB) and the Department of Environmental Protection (DEP) the capacity to waive fees and advance notice requirements associated with permits and applications needed by property owners to work on storm damage repair. In particular, the EO permitted property owners to obtain fee waivers and eschew advanced notice for asbestos-related abatement and repair projects that were connected to storm damage.
The EO was in place only for a few days but retroactively dated the fee waivers back to the beginning of September. The EO was meant to alleviate the burden felt by property owners who are already struggling with the costs of repairs.
Asbestos exposure becomes a concern for property owners after storms and other disasters due to potential exposure by first responders, cleanup crews, and construction crews. Property owners and any contractors should take care to follow proper safety protocols to avoid unnecessary asbestos exposure.
New York Remains a Hotbed for Asbestos Tort Claims
Hurricane Ida and the related mayoral order serve as a reminder of the continued presence of asbestos liability across the state, and in New York City especially. New York remains one of the most active jurisdictions in the country for asbestos claims, with New York City ranking third in the nation in 2020 for the sheer volume of claims. In 2020, New York City had the second most claims relating to mesothelioma.
The high claim rates correspond to high rates of mesothelioma diagnoses and fatalities. From 1999 to 2017, an estimated 3,851 New Yorkers were diagnosed with the disease, which has been connected to asbestos exposure in a number of lawsuits. Asbestos toxic tort defendants have faced verdicts in the hundreds of thousands or millions of dollars, depending on the alleged injury suffered by the plaintiffs. According to some measures, the average mesothelioma settlement is between $1 million and $1.5 million, while the average mesothelioma trial verdict falls between $5 million and a whopping $11.4 million.
If you are concerned about liability for asbestos exposure, talk to a dedicated toxic tort defense lawyer as soon as possible. Taking appropriate steps to mitigate the harm can reduce your liability, and building a strong legal defense early can help mitigate settlement amounts or even lead to claims being dismissed outright.
For dedicated and thorough legal advice and representation regarding a New York toxic tort or insurance defense claim, contact the Islip offices of Richard A. Fogel at 516-721-7161.