Lower Court Declines to Follow Parker v. Mobil Oil in an Asbestos Case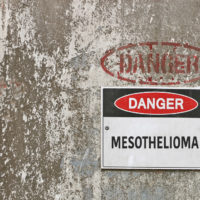 In a recent unpublished lower court opinion, Battistoni v. Aerco International, issued by Judge Peter Moulton of New York County Supreme Court, a mesothelioma plaintiff successfully defeated a motion for summary judgment despite an absence of quantification of exposure by the plaintiff's expert witness. The court distinguished and declined to follow Court of Appeals controlling precedent, Parker v. Mobil Oil, suggesting that Parker is not applicable to asbestos cases.
In Battistoni, the plaintiff worked in delis and similar food operations with products manufactured by ITW Food Equipment Group that used gaskets and other components containing asbestos. The man developed mesothelioma and filed suit against, among others, ITW Food Equipment Group. The plaintiff offered the expert opinion of Dr. David Zhang in support of his claims, who stated in his report that the plaintiff's mesothelioma resulted from asbestos, and the "cumulative exposure of [sic] each asbestos-containing product significantly contributed to the development of his malignant mesothelioma." Additionally, the plaintiff testified that he had been present while defendant's products were being repaired on numerous occasions, during which time he asserted that he inhaled asbestos-containing dust.
The defendant moved for summary judgment dismissing the plaintiff's claims, arguing that Dr. Zhang's testimony should not be admitted due to lacking a proper foundation. The defendant pointed out that Dr. Zhang did not offer the quantity or frequency of exposure to asbestos that the plaintiff experienced, nor did he cite to studies of asbestos exposure as experienced by workers in commercial kitchens. The defendant noted that he had provided only the types of "general, subjective and conclusory assertions" which the high court in Parker found lacking, as well as relying on the "soundly discredited" theory that "any exposure to asbestos is a substantial contributing factor" (internal citations omitted.)
The plaintiff responded by highlighting his testimony regarding the wide array of products manufactured by the defendant which had been repaired in his presence over the course of a decades-long career resulting in his exposure to asbestos-containing dust. He also noted that past courts have found expert testimony persuasive where it relies on a plaintiff's claims of seeing and breathing visible asbestos dust on a work site on a regular basis.
In his opinion denying the motion, the lower court explained that to defeat a summary judgment motion, "a plaintiff's evidence must create a reasonable inference that plaintiff was exposed to a specific defendant's product." (internal citations omitted.) The judge concluded that the defendants had failed to prove that its products "could not have contributed to the causation of plaintiff's injury," adding that it was not the plaintiff's burden to "demonstrate that his exposures to [defendant's] products were substantial,"a questionable take on the burden of proof. The lower court relied on recent court decisions upholding jury verdicts which had been based only on testimony that plaintiffs' regular exposure to asbestos dust had caused their mesothelioma. Judge Moulton noted that the defendant had misapplied Parker, noting that reading Parker as requiring that the plaintiff "express his alleged exposures with quantitative certainty. . . would forestall recovery in nearly all asbestos cases." The judge noted that the Parker opinion itself stated that "it is not always necessary for a plaintiff to quantify exposure levels precisely." Apparently, the lower court equated "not always necessary" with "never" in asbestos cases.
In a footnote, Judge Moulton further explained that, in Parker, the quantity of the plaintiff's exposure to benzene was important because the plaintiff's illness could have stemmed from any number of causes, not just exposure to gasoline (specific causation). Additionally, it was possible for scientists to measure how much benzene was present in the defendant's gasoline, since that gasoline was still being manufactured. Mesothelioma is a disease whose "signature cause" is exposure to asbestos, so that inhaling asbestos fibers causes an increased risk of developing the disease. The judge also noted that most asbestos products are no longer being manufactured and so the products cannot be tested for the presence of asbestos, making quantification substantially more troublesome in those cases. Of course a toxicologist might have explained to the judge that exposure models can be created based upon historical facts to estimate the quantity so the court's conclusion appears to be partially based upon its lack of knowledge about toxicology.
For assistance with a matter relating to New York toxic tort litigation, toxic tort insurance coverage, environmental, products or insurance coverage litigation, contact the knowledgeable and effective New York lawyer Richard A. Fogel for a consultation at 516-721-7161.