Landlord Sues Tenant for Allowing Rampant Bedbug Infestation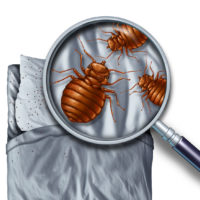 In an unusual turn of events, a frustrated landlord has decided to take legal action against a tenant who permitted a bedbug infestation to run rampant, eventually reaching numerous other units in the building. The lawsuit, titled 2 Riverside Drive, LLC v. Behan, was filed last month in New York County Supreme Court by the owner of the Upper West Side apartment.
James Behan is the tenant at the center of the conflict. According to the property owner's lawsuit, a number of tenants of 2 Riverside Drive complained about a bedbug problem late in 2015. The landlord notified tenants on December 14 that an exterminator would be inspecting the building and infested units, and that any tenants who had noticed a bedbug problem should alert the landlord. Behan did not report having a bedbug problem in his unit. The exterminator inspected the building using a bedbug-sniffing dog, which zeroed in on Behan's unit as having an infestation. Navin Sankar was the exterminator tasked with fixing the bedbug problem in 2 Riverside Drive. He provided an affidavit to accompany the owner's complaint. "It was one of the worst infestations I have ever seen in my 17 years of experience as an exterminator," he wrote. According to Sankar, bedbugs could be seen in Behan's electrical outlets and baseboards, and crawling on his furniture and ceiling. The property manager spoke with Behan, who said he had the problem under control and used Combat (a pesticide intended to kill ants and roaches) to eliminate the bedbugs. While Behan permitted an initial spraying of his unit, he failed to bag up infested clothing and personal items, instead leaving them in common areas of the building, and refused to allow his car to be treated, which was also found to be infested. The property owner and manager believe that the bedbug problem will not be stemmed until Behan allows his personal areas to be treated.
Attorneys for the building's owner are requesting that the court order the tenant to comply with requests from the building manager to allow both his car and apartment to be treated for bedbugs. The lawsuit also seeks $300,000 in damages for extermination costs and legal fees. Other tenants of 2 Riverside Drive have threatened to leave the building and bring their own lawsuits if the bedbug problem is not brought under control.
The likely theories for the claims in this case are nuisance, negligence and breach of contract. If the landlord fails to act, he could face lawsuits from the other tenants based upon the same theories. It is not unusual for such claims based upon damage caused by odors, garbage and sewage, and this firm has litigated similar cases arising out of mold.
If you are a New York landlord in need of legal assistance for an issue with a tenant, contact experienced Long Island landlord attorney Richard A. Fogel for a consultation on your case, at 516-721-7161.