Court Certifies Class Action Based on PFOA Exposure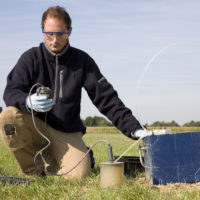 For the first time, a New York Superior Court has certified a class of plaintiffs in a lawsuit based on medical monitoring and groundwater contamination related to perfluorooctanoic acid, or PFOA. Learn more about PFOA exposure and the case below. If you have further questions, contact an experienced New York toxic tort defense attorney.
Water contamination stemming from production of Teflon-coated fabrics
The lawsuit based on PFOA exposure is titled Burdick v. Tonoga, Inc. The class members' claims are based on activities taking place since the early 1960s in and around a facility in Petersburgh, New York. Tonoga, doing business as Taconic, used the Petersburg facility to manufacture Teflon-coated fabrics. The plaintiffs in this case, residents and property owners of Petersburgh, claim that Taconic released airborne chemicals during the manufacturing process that sank into the town's soil and became PFOA in the process. The plaintiffs claim that the groundwater beneath Taconic's facility became contaminated with PFOA, as did the town of Petersburgh's water system, as well as private drinking wells within a seven-mile radius of the factory.
There are two types of plaintiffs represented in the Burdick v. Tonoga lawsuit: property owners and individuals. The property owners, comprising three separate classes, all obtained water from sources that they claim suffered from PFOA contamination. The individuals, referred to in the lawsuit as the "Invasion Injury Class," allege that they have significant PFOA levels in their blood, according to medical testing. In essence, the individuals' claims are for costs related to medical monitoring.
Court certifies medical monitoring class of plaintiffs
While class action claims for lost property value and trespassing via chemical contamination are not unheard of, New York case law does not usually allow for class action claims based solely on the costs of medical monitoring without any signs of physical injury. However, courts have allowed claims based on medical monitoring expenses where the individuals can show that they were exposed to a disease-causing agent, that the defendant is alleged to have caused this exposure, and that the exposed individuals had a rational basis for fearing that they would contract a disease. Courts have previously held that plaintiffs who can show the presence of a contaminant in their blood is sufficient to prove that they were exposed to the contaminant, and to serve as a rational basis for the fear of contracting a disease. The certification of this medical monitoring class, while still an outlier, could indicate that courts are more inclined to certify similar classes going forward.
For seasoned, knowledgeable, and professional assistance with a legal issue related to New York insurance coverage or toxic tort defense, contact the Islip offices of Richard A. Fogel at 516-721-7161.