New York Appellate Division Rules that Building Owner May Have Additional Insured Status under Contractor's CGL Policy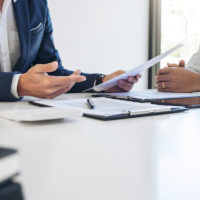 The First Department of the New York Appellate Division recently issued a long-awaited opinion in a case looking at whether a property owner had additional insured status under a contractor's CGL policy. The case provides an example of the time and money that can be saved by having a skilled attorney review contracts and policies for clarity before they're signed. Learn about the case below, and contact a seasoned New York insurance coverage litigation attorney with any questions.
Court Grants Summary Judgment on Question of Additional Insured
The First Department issued its opinion in the case titled M & M Realty of N.Y., LLC v. Burlington Ins. Co. on March 5, 2019. In this case, M & M Realty, the property owner, had hired contractor L & M to perform work on the property. M & M and L & M had discussed M & M's status as an additional insured under L & M's CGL policy through Burlington Insurance. The policy included a clause providing coverage for additional insureds for bodily injury "caused, in whole or in part by: [L & M's] acts or omissions" or by persons acting on L & M's behalf. Representatives of both L & M and M & M testified in depositions that they had intended for M & M to be named as an additional insured. However, there was no written contract requiring that L & M name M & M as an additional insured. Instead, the contract stated only that L & M was required to provide "necessary. . . insurance," without defining that term.
When an L & M employee was injured on the job, he filed suit against M & M. M & M's insurer, Tower, tendered its defense to Burlington based on what it believed to be M & M's status as an additional insured under the Burlington policy. Burlington denied the tender, arguing that there was no contract naming M & M as an additional insured. Tower ultimately settled the injured employee's claim and subsequently filed a complaint against Burlington for the costs of defending and settling the claim.
Burlington succeeded on a motion for summary judgment of Tower's claim in July 2018. The trial court ruled that there was sufficient extrinsic evidence to support M & M's status as an additional insured, even in the absence of a clear written contract establishing coverage. However, the court concluded that, since there was no allegation in the injured worker's complaint that L & M's acts or omissions had caused his injuries, Tower was not entitled to indemnification from Burlington.
Appeals Court Holds Additional Insured Issue Needs to Be Litigated
Tower appealed this decision, and the Appellate Division reversed the trial court's decision. The court determined that, while extrinsic evidence was admissible, it should be left to a factfinder to determine whether M & M was an additional insured under the Burlington policy. However, the Appellate Division opinion pointed out that, if a factfinder did find that Burlington was an additional insured, evidence showing that L & M directed and controlled the injured employee's work could support the argument that it was L & M's acts or omissions that caused his injuries.
It can be tempting to assume that, after a conversation with a contractor about insurance coverage, you'll receive the coverage you discussed even if you haven't seen the policy language that makes this coverage official. No matter how well-seeming the intentions of the parties involved, however, this is not guaranteed without a signed contract that clearly states the terms of coverage.
Get Professional Help from a New York Insurance Coverage Lawyer
For seasoned, professional, and knowledgeable legal guidance on an issue related to insurance coverage or defense, contact the Islip offices of Richard A. Fogel for a consultation at 516-721-7161.